Due to the war, invasion and agressive slaughter of civilians.
We recommend everyone who values a democratic and free world to Boycott Russia and Belarus:
together with indirect boycott of companies that flows money to the Put-in-sane Dum-a-s.
It is not the people of Russia that are the problem. It is an put-in-sane dictator/president and crasy duma-ss.
---
(Please verify that they did not change there minds before executing boycott)

---
You may want to check these sites:
Leave russia org
Boycott russia info
---
So Stop business with Russia and leave
---

Gems and diamonds from Russia. via India
Alrosa PJSC
Accor
AmerisourceBergen
Arconic
Binance
Bosch - so no more Bosch, tools will be DeWalt or Black and Decker (That ban's the put-in-san invasion)
Bridgestone
Citigroup
COSCO
Credit Suisse
Coloplast - business still active = Boykot
Ecco - shoes
Deutsche Bank
Dinex A/S - https://leave-russia.org/dinex
Dyson
Ferragamo
Auchan
Decathlon
Leroy Merlin
Herbalife
International Paper
Japan Tobacco International
Kia
Huawei - Still building infrastructure in the Put-insane ruz..
Kimberly-Clark
Koch Industries
Lenovo
L'Oreal - Really bad smell of Put-in-sane death
Mars - Never to eat MARS Bars again
Metro AG
Micro-Star International
Mohawk Industries
Nokian Tyres
Otis Worldwide
Pepsi - DO NOT DRINK PEPSI - they support War and Russia.
Pirelli
Renault
Saxo Bank (Chinese owner Kinesiske Geely
Timken
Whirlpool
Yandex (IT Hosting/Datacentre) - Reg. i Holland, de fleste aktivier er placere i Rusland og Ruslands største it-firma / Ejer
VKontakte - IT Company
Kaspersky - IT-company Russia
Inter RAO (Russia Energy) including:
RAO Nordic (Electricity)
The Swiss Sonova (Hearing aid)
HUMAC (Russian owner)
ØRSTED / ORSTED / OERSTED (Buing gas from Russia) - Also owned by Danish Government so vote for those who will clean up this mess.
BERMUDA Airlines (Selling, leasing and flying to Russia)
Aeroflot (Russian Airline Company) including Pobeda
SmartAvia (Russian Airline Company)
Rossiya (Owned by Russia government)
UTair (Russian Airline Company)
Belavia (Belarus - flying to and from Russia
Aurora (Russian Airline Company)
S7 Airlines (Russian airline) - AKA Sibir Airlines (2nd largest company)
Turkish Airlines (Flying to Russia)
Russian Vodka
Dagestans (Russian Whisky)
Praskoveysky (Russian Whisky)
Beluga
Imperial Collection
Kalashnikov
Uniconf chocolate
Companies that buy / sell oil from Russia (Including Danish government and EU should close pipe NOW!)
ROSNEFT
Gazprom
Lukoil
Gazprom Neft
Surgutneftegas
Sportsmaster (Russian Owner)
Xiaomi (China but also Russian Usmanov as owher)
Twitter, Facebook, AirBnB (Several russian investors and stock owners)
Steel - Vorskla Steel / NLMK DanSteel A/S
Stålvalseværket Frederiksværk (Supply and owner from Russia - 450 workers are afraid of there job - they should be ashamed - they should think of the 40 mil. people loosing home, country and possible to be killed.
Rockwool - 4 factories not closing - so any purchage in the future will be from competitors. We are NOT using Rockwoll.
(ISOVER? - not seen that they have left Russia. / Saint-Gobain? vs. Knauf vs. Paroc (Factory in Russia) vs. URSA) - Use alternative isolation and NOT Saint-Gobain or Rockwoll.
Wintershall Dea - Germany but Russian co-owner Mikhail Fridman
Hartmann (Still in Rusia so NO support and active boycott from us.)


---
Support Countries that condemned the Russian attack on Ukraine
BLACKLISTED безумный COUNTRIES LIKE:
KAZAKHSTAN = Parrallel import and bypassing sanctions to Rusia
KYRGYZSTAN = Parrallel import and bypassing sanctions to Rusia
ARMENIA = Parrallel import and bypassing sanctions to Rusia
BELARUS = Parrallel import and bypassing sanctions to Rusia
GEORGIA = Parrallel import and bypassing sanctions to Rusia
UZBEKISTAN = Parrallel import and bypassing sanctions to Rusia
IRAN
SYRIA
ERITREA
NORTH KOREA
BELARUS (Also parallel import to Put-душевнобольной
VENEZUELA
CUBA
NICARUGUA


Countries where Attack on Ukraine Was Condemned - Unless they change their minds

Look for any kind of crude oil (gas, petroleum, oil, coal), metals, wood, wheat and plastics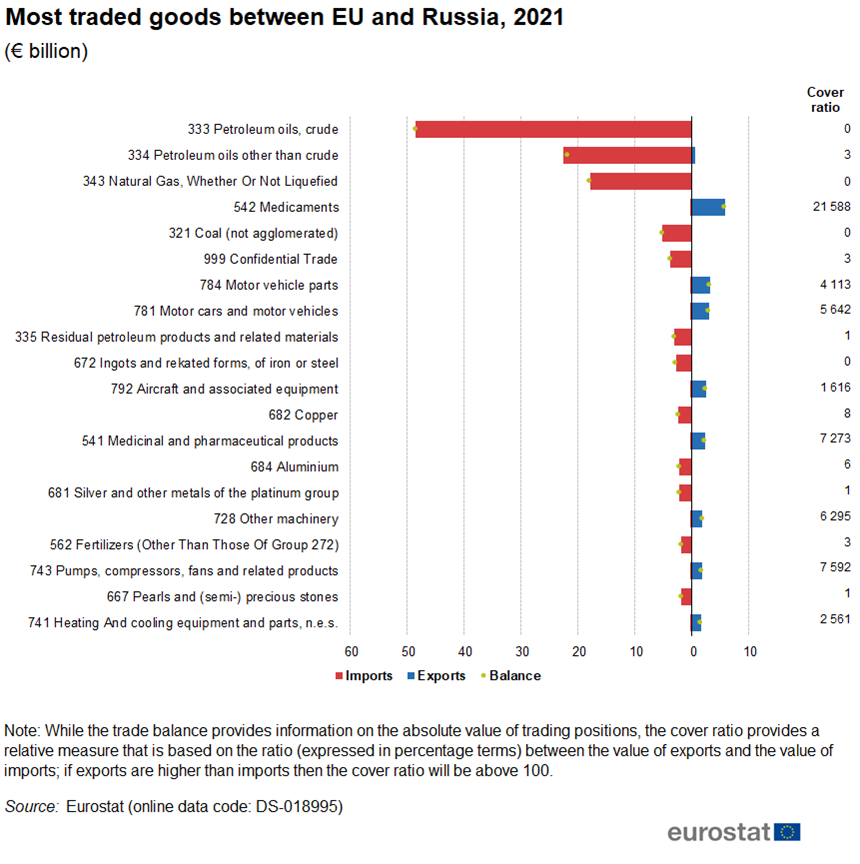 November 2022 - Looks like China are getting closer to be more cleaver and understands that someone are a bit to nuts - and they do not open support him.. (Wake up ad do the what the world needs not what a put-in-sane personal need is.)
---

OTHER ISSUES:
LG Electronics (Still factory and selling to Rusia)
Samsung (Still selling in Russia)
Total Energies (France) - does rebuild Tyra gas (Danish), but also investment in the middle east
IKEA (Wood from Russia) - Though the latest says that they change their mind.
Coca-cola - says it will stop (8-3-2022)
Pepsi - says it will stop (8-3-2022)
Starbucks - says it will stop (8-3-2022)
Korean Air Cargo - Korans Air - Asiana Airlines - Air India(Using Russian Airspace)
ARLA - represented in Russia - get out of there..
Chr. Hansen
Ecco - Still active in Russia - Bot not active on my feet anymore. Nice footprint! on your brand, beeing baned. Last 6 pairs of shooes was NOT from Ecco.
FLSmith
Grundfos - Pumps etc.
Novo Nordisk - Insulin (Medicin) - still you say it is etic - what abount Ukraine and how etic is war?
Lundbeck - (Medicine) - Same story as Novo. Kill people from Ukraine but save lifes in Russia, how ethic is that?
Danish Crown - Using Gas from Russia.
Harboe Bryggeri - Using gas from Russia.
Arla - Using Gas from Russia - so only half way there...
FLSmith (Not all the way - saying that they have some contracts and will not sign new ones.) - there are always a way out of a contract.
NOKIA - Leaving no later than 2023
Ericsson - Leaving in 2022


---

SUPPORT THE COMPANIES THAT Boycott's the Russia and Belarus/ Put-in-sanity
Shell ended the contract with North Stream II (Thank you)
Salling group and Coop (Removed items from Russia)
BP for selling out owhershop of Rosneft.
Danske Bank and Nordea for excluding russian investments.
DBU for selling stocks from russia
Nykredit for selling all rusian statesobligations and invenstment in a russian company
VISA and MasterCard 2022-03-05 now closes card usage in Russia.
Equinor (Green energy) - is out of russia so support this company
Exxon Mobil (Leaving projects in Russia and selling ownership of Sakhalin-1)
Jysk - Closed all 13 shops. Thank you. (And now 100% leaving Russia selling all stock and shops 28-3-2022)
Phomus - Boycott's all products and services to Russia and Belarus
GN Hearing - Hearingaid
Demant - Hearingaid (No longer active in Russia)
Lego - Stopping all shipment of lego to Russia - an issue is that stock are available at shops that Lego do not own. July 2022 all shop contracts to be closed.
Pandora - No more deliveries - local stock could be available at local distributor
Schneider Electric
TORM - Like Maersk - out of Russia
Velux - Windows - not selling and shipping - Thank you V Kann (VKR) - 30-3-3022 now ending all relationsships with Russia.
Bestseller
Danfoss (Says that all operations ends July 2022 - that is in time.)
Carlsberg - says it will stop selling (30-3-2022 - Got wiser and are selling everything in Russia in order to leave permanent.
Aarsleff (30-3-2022 are leaving Russia.
Vestas - on hold? (Now retires 100% 5-Apr-2022 from Russia)
McDonnalds - now selling shops in Russia to local russian owner...
Tiffany & Co. - will not sell rusian diamonds.
Signet Jewelers, - will not sell rusian diamonds.
Depositphotos - Kiev - Ukraine founder now operating from US.
-

---
So what could drive the Put-in-sane leader of Russia?

Not only beeing a psychopath, with unstable- and Dyssocial personality structure (psychopathy) - the personal need for power and to be in the story books for personal attention is a known need thousands of years back in time. So if your personality did not grow with the rest of the world - some people may behave like you did in Neolithic, Bronze and Iron Ages in the Mediterranean.
If you are unpopular or if things are bad inside your own country, a leader often starts a war or creates an external enemy to remove the focus from own problems and to try to hide that you are wrong by telling bad stories about others.
It is perhaps a grown up in-sane way with the same reason for bullying . If you are not well inside or you are having a bad life yourself, blame others and make em enemies.
Crazy that one person can do such harm in the world for own personal needs.
People of Russia, stand up, be proud, accept others - it is not you that are in-sane!
Writing this may put me and my family on his deathlist, since that is the only way they know, when you are
Unable to:
* use common sense
* to be understanding
* looking at the needs of the rest of the world
* think rational
* accept that you are not always intelligent

---
International Judo Federation and World Taekwondo strips titles from V-Put-in-sane
Do not be sad Mr. VP , you will now have a reserved unlimited prime ticket to hell on first class on the front row - with no obstacles at all.

---
You are perhaps only able to pleasure your own ego, only simple thaughts in some in-sane mind.

---
My latest 4 pair of shoes was NOT from Ecco.
My next laptop will NOT be from Lenovo
My latest powertools was from DeWalt. (Bosch was out from now - no more - never) - but looks like they turned around.
My next cellphone or tv wil NOT be from Samsung
The old Dyson - wil not be upgraded. vacuum cleaner or hover / floor cleaner will NOT be from Bosch or Dyson.